(by Didi Rankovich | Reclaim The Net) – Australia's major banks: ANZ, CBA, NAB and Westpac, are happy with EFTPOS' payment system known as ConnectID to provide the national digital ID.
But if you're in Australia – or indeed, in New Zealand – what does this mean?
The big banks behind the big push are unsurprisingly known "as the big four" – so, ostensibly, everything stays inside the "big financial family"?
What EFTPOS (stylized as, "eftpos") stands for is, "electronic funds transfer at point of sale" – (if you're in Singapore, you might know it as "NETS"). It's an electronic payment system involving electronic fund transfers based on the use of debit or credit cards, at payment terminals located at points of sale.
Australia's Payments Plus (AP+) – described as a broker for digital identity initiatives both behind EFTPOS and BPAY – made the announcement. And BPAY is an Australian electronic bill payment company working with online financial institutions, mobile or telephone banking with registered billers.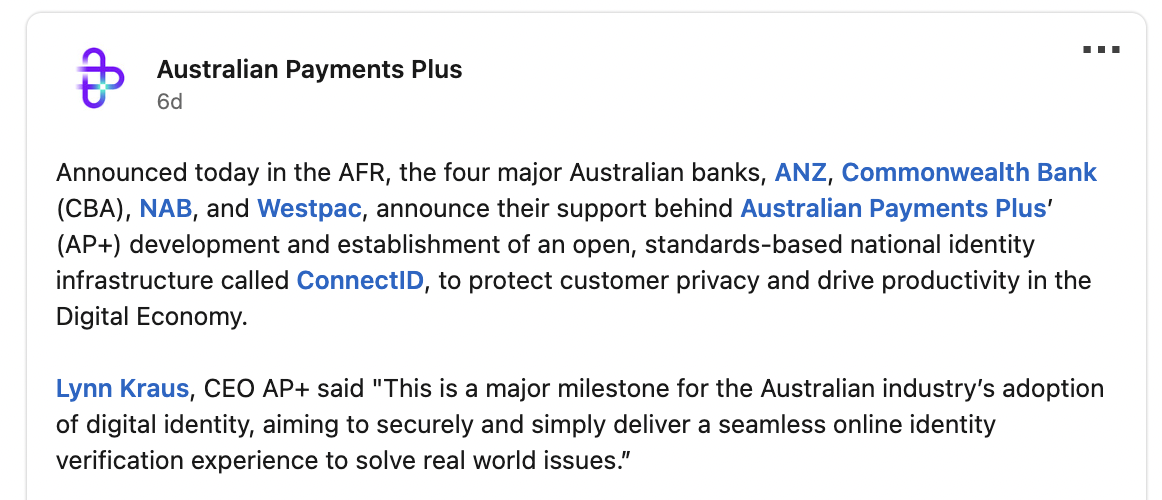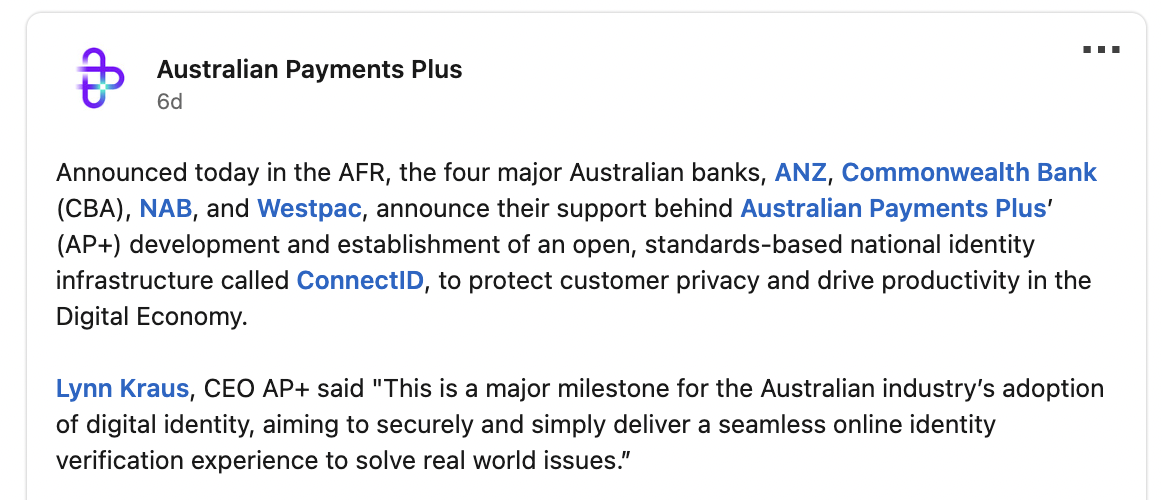 (For those who enjoy a trip down a financial market rabbit hole, BPAY is a wholly owned subsidiary of Cardlink Services Limited – which, in turn, is equally owned by the four biggest banks operating in Australia: Australia and New Zealand Banking Group, Commonwealth Bank, National Australia Bank, and Westpac – the very same entities we mentioned at the top of the article.)
With that information and "banking cabal" circle complete – let's see what Australia's big bank's digital ID actually means – especially for those who cannot escape it.
It's supposed to be a "seamless online identity verification experience" – as AP+ CEO Lynn Kraus put in, in quotations cited by biometrics industry-friendly media outlets.
That a bunch of conglomerates might actually work together to – finally – make banking and payments experiences "smooth and unnoticeable" – i.e., "seamless" to their business – isn't even that jarring.
It's their business, that's the problem.
But now apparently to go get existing customers ("casualties") to buy into it, is a whole nother level.
Many observing this are likely to see it as a win, the same as National Australian Bank (NAB) chief of digital, data and analytics Angela Mentis has, who said the bank's priority was to help "bring digital identity to life (…) to empower customers with a choice – to verify their identity how and when they want, whilst ensuring privacy and personal data is protected."
Banks customers down under will take this kind of feel-good word salad parroting what they hope to hear from corporations – with no visible proof – for what they will.
And one hopes – exactly for what that is.