(by Zero Hedge) – Days after Canadian Prime Minister Justin Trudeau invoked the Emergencies Act to crack down on protesters nationwide, Canadian police are preparing to clear hundreds of truck drivers from Ottawa, according to Reuters.
'Freedom Convoy' demonstrators against the government's medical tyranny have staged a three-week-long siege of Ottawa's downtown district that prompted Trudeau on Monday to invoke the Emergencies Act to crack down on what he has described as an attack on democracy.
On Thursday evening, police began moving in on the downtown district, arresting protesters. We noted two key organizers were arrested, including Tamara Lich and Chris Barber. The two have been described as top leaders in the movement. Authorities are expected to unleash a wave of arrests on Friday.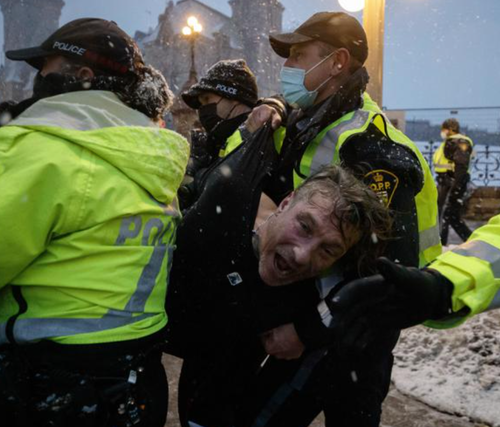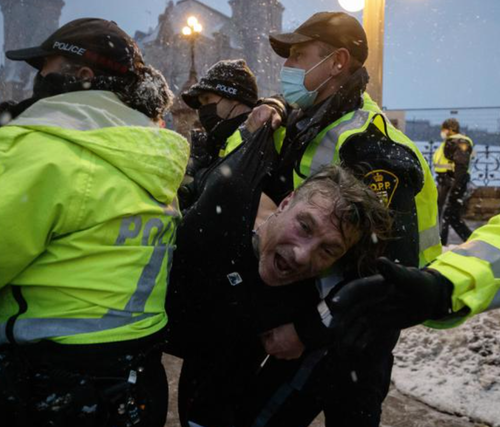 "We absolutely are committed to end this unlawful demonstration. We have the plan, we have the commitment, we have the resources," interim police chief Steve Bell told reporters on Thursday. To quell future protests at least 100 checkpoints will be erected in the downtown district. Anyone who doesn't have a legitimate reason for entering the area will be barred.
"This weekend will look very different than the past three weekends," Bell added. 
Many of the truckers in the Freedom Convoy aren't moving.
"I'm prepared to sit on my ass and watch them hit me with pepper spray," Pat King, one of the leaders of the movement, told AP News.

"There are no tow trucks in Canada that will touch them."
Amid the rising tensions outside Parliament, many demonstrators still refused to budge, and the use of federal emergencies law will give police the tools to end the occupation.
Some Canadians are outraged their government would even enact such powers (not seen in fifty years) on what has been described as 'peaceful protests,' However, the Trudeau administration sees things a little differently, calling truckers "fringe" and treating them as so-called 'terrorists.'
Meanwhile, the Canadian Civil Liberties Association has announced its intention to sue the federal government for invoking the Emergencies Act in response, the CBC reports.
It remains to be seen if today's move to end the capital's siege will go smoothly. Trudeau's use of emergency powers has already prohibited travel, banned protests, conducted widespread arrests, blocked donations, and frozen bank accounts of truckers and their supporters. People are getting angry, and there are even fears of a possible bank run.