(by ThreadsIrish) – In March 2022, The Irish Times called it 'A welcome step': Ireland's first basic income scheme on the way' where artists will get €250 a week in a pilot scheme but many want to see it extended to all.
Five months later and it had increased to €325 with The Irish Times called it a 'seismic leap forward' where some 2,000 artists will be guaranteed that weekly wage amount.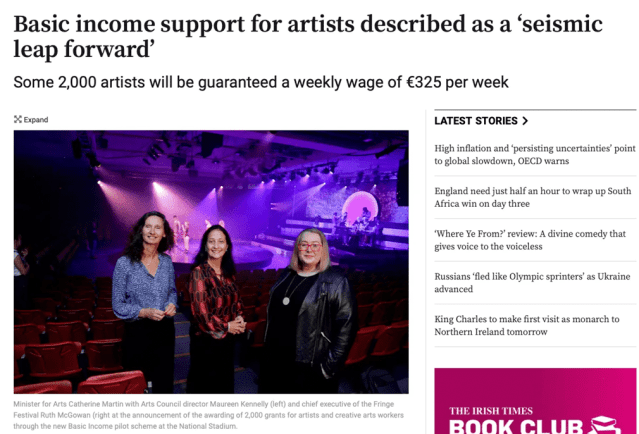 Basic income support for artists described as a 'seismic leap forward', The Irish Times, 8 September 2022
In Ireland it is being promoted as "money for nothing" and "no questions asked". It is the exact same when furlough money was being paid.
When in the history of time has there ever been a "free lunch" (I'll get to that later on in the article).
Even one of Ireland's most well-known economists who writes for The Irish Times thinks it's a good idea. In an article in 2017 David McWilliams floated the idea on his own blog.  This was the same guy who was a huge fan of furlough money in 2020.
McWilliams also was a Young Global Leader but has now graduated to become a member of the World Economic Forum ("WEF").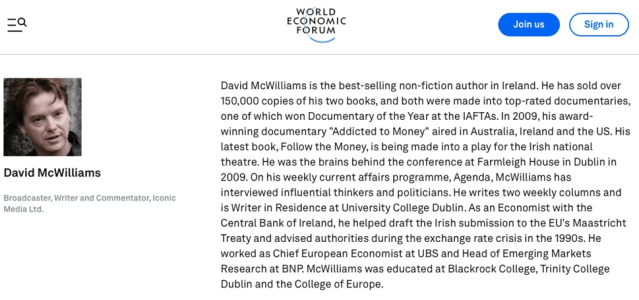 World Economic Forum: David McWilliams
Coincidentally, his own podcast on 2 March 2021 was titled 'Building Back Better'.  Where have we come across that before?
Just across the Irish Sea in the UK, a document was published on the UK Parliament website in June 2022 called 'Potential merits of a universal basic income'.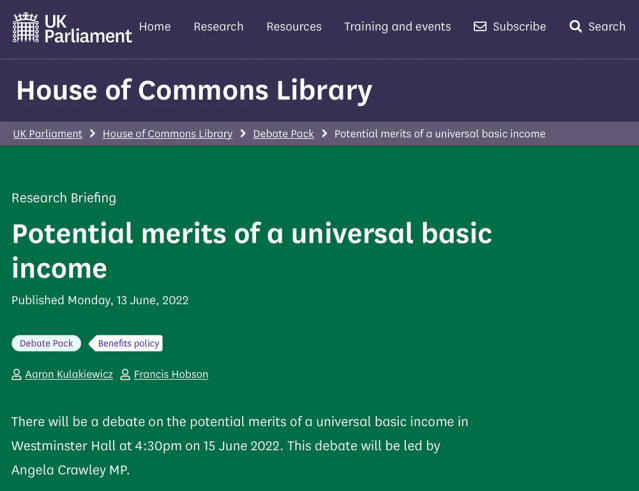 They are obviously taking the idea of UBI very seriously and moving it along rapidly. The links to the UK parliament and ex UK parliamentarians doesn't end there however. That war-monger in chief and ex PM of the UK, Tony Blair, is also involved as this tweet shows from Tascha Labs.
Crazy thing just happened.I'll be joining Tony Blair Institute's Tech Policy Fellowship to develop public policy recommendations for universal basic income using CBDC network.Def didn't see that coming when I posted tweet below 2 mos ago.

Excited & blessed 🥰@InstituteGC https://t.co/xBIXIK7vWF

— Tascha (@TaschaLabs) September 2, 2022
Blair is a WEF member, has been financed by the Bill & Melinda Gates Foundation for tens of millions and has been pushing a Digital ID for years.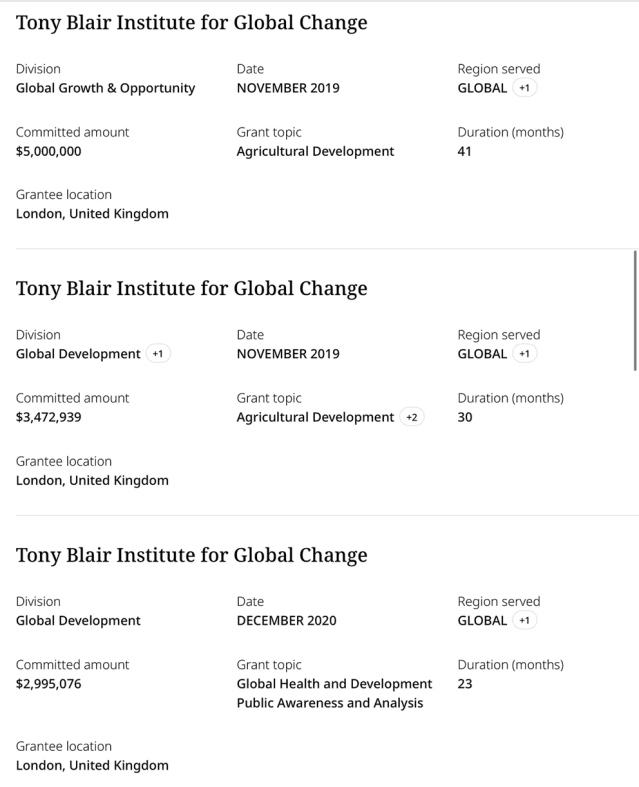 Bill & Melinda Gates Foundation: Grants Committed, Tony Blair Institute for Global Change
It is this institute which will be involved in "public policy recommendations for universal basic income." 
We can now see how UBI jives with Central Bank Digital Currencies ("CBDC"). The dots are all being joined up.
Apparently "Brits support universal basic income by 20-point margin" according to a poll in the New Statesman carried out in July 2022.
Of course they do.

Brits support universal basic income by 20-point margin, The New Statesman, 5 July 2022
Wales though are a step ahead in the UBI stakes. In February, The Guardian reported:
"Young people leaving care will be offered £1600 a month for two years from the month after their 18th birthday. That works out at £19,200 per annum."
A not insubstantial amount.
The country who is furthest down the track with UBI is Canada. Bill S-233 is: "An Act to develop a national framework for a guaranteed liveable basic income." It says: "Every person should have access to a liveable basic income."
You won't be surprised to hear that the World Economic Forum are big fans of UBI. They have been pushing it since 2016.
In a video from 2021 at the height of the pandemic, they lauded it.
Subtitles from video:
This city in California trialled universal basic income and found a surprising result. Stockton gave 125 People $500 a month with no requirement to work and study them for one year to see what happened.

After 12 months, the rate of full-time employment shot up 12% with participants working more, not less. They also reported feeling less anxious and depressed and spent more quality time with our kids.

Some helped family members pay for medical care. Others time to study. The money improved their social relationships enabling them to pay for luxuries like meals out.

The project hoped to show that poverty results from a lack of cash not character. Researchers say that payments let people set goals, make choices and take risks leading to career opportunities.

The report covers November 2018 to February 2020. A subsequent one will show how they fared during the pandemic. This isn't the first experiment with universal basic income.

From 2017, Finland paid 20,000 unemployed people $560 a month. After two years recipients were happier, healthier and more confident during the pandemic many nations have given cash payments to the poorest people, including the US, India and Spain.

Critics of universal basic income say it's too costly to roll out permanently. Do you think universal basic income is a good idea.
So, there you have it. UBI is the panacea for everything – happiness, time with family, medical care, meals out. What more could you ask for. And apparently the trial in Finland was a huge success according to the WEF. Except it wasn't.
According to Business Insider: "One of the world's largest basic-income trials, a 2-year program in Finland, was a major flop. Critics did claim the test was flawed from the outset."
That is often the case though when trail results don't go the way you want them to.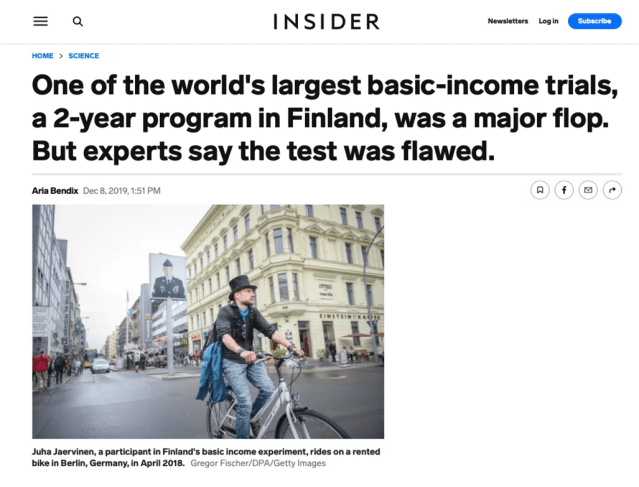 One of the world's largest basic-income trials, a 2-year program in Finland, was a major flop. But experts say the test was flawed, Business Insider, 8 December 2019
UBI all sounds well and good.  What's not to like about an unconditional liveable income. It is always sold as eradicating poverty as well as being a social safety net.
Allegedly people will be able to spend more, save more and invest more.
Except it's never unconditional. What we should be asking is "Cui Bono" or who stands to benefit? Simple answer is "The Elite." Read Full Article >