We're told we're on the road to economic recovery. The $1.9 trillion stimulus is all we need to get us over the hump. But the truth is, Americans started spending like they were over the hump months ago. In fact, American consumers high on stimulus have been on a spending spree since last summer. The Federal Reserve printed money. Uncle Sam handed it out. American consumers spent it on imported goods.
This isn't the formula for a genuine economy. It's the formula for a giant bubble.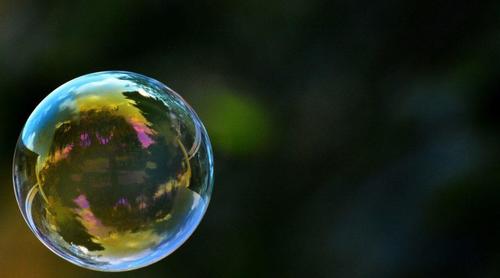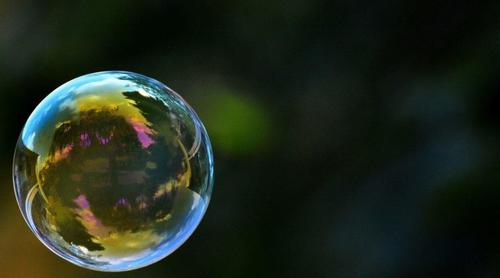 During the Great Recession, consumers cut spending. This is what you generally expect during an economic downturn. The economy contracts, people lose jobs, money gets tight and consumers spend less. You can see this in the numbers. Spending on durable goods plunged by 19% from the peak in October 2007 to the trough in April 2009. Meanwhile, spending on nondurable goods (food and gasoline) dropped by 10% during the Financial Crisis, from the peak in July 2008 to the trough in March 2009.
This spending cutback during an economic downturn creates what economists call "pent-up demand." This helps drive spending upward during an economic recovery. You can see how the pent-up demand drove spending on durable goods post-recession in this graph produced by WolfStreet.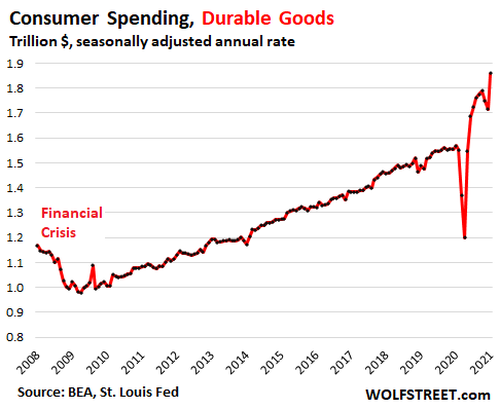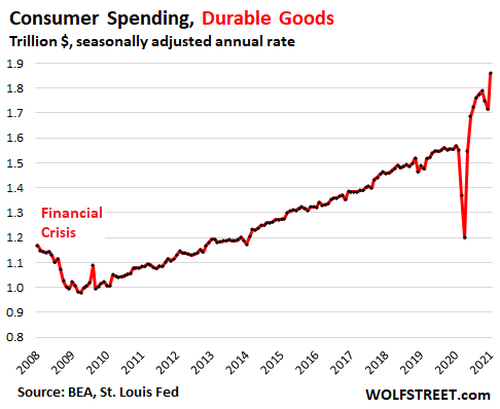 You can also see that consumer spending during the pandemic downturn took an entirely different trajectory. After a sharp but brief drop in the first months of the pandemic, spending surged.
In January alone, spending on durable goods spiked by 18.6% from a year ago, according to the Bureau of Economic Analysis. You might think this was the result of the mythical economic recovery as states loosen lockdown restrictions, but this spending spree has been going on since last June. Read Full Article >